What is Simmons–Smith Reaction?
Simmon Smith reaction is most powerful organic cheletropic (reaction) method for cyclopropane preparation from diiodomethane (CH2I2) in the presence of zinc-copper couple (Zn-Cu) from unfunctionalized alkenes (e.g., cyclohexene, styrene) stereospecifically.
This method is highly stereocontrolled, and it involves a C=C bond-breaking reaction and the addition of the CH2 group. For example, if the alkyl groups of the alkene are trans-alkenes, give trans-cyclopropanes, and cis- alkene gives cis- in the cyclopropane.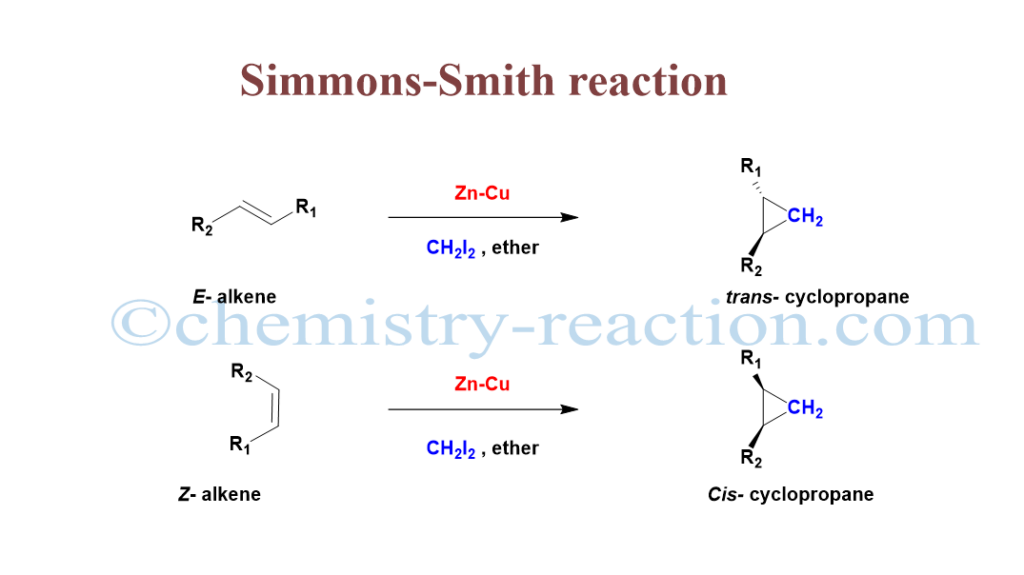 Simmon Smith Reaction Mechanism –
The number of reactions, theoretical studies, and the stereochemical outcome show that the Simmon Smith reaction mechanism is a concerted process. It proceeds via a three-centered "butterfly-type" type transition state.
simmons smith reaction intermediate is methylene free radical intermediate. simmons smith reaction is stereospecific to the alkene.
Additional Information –
Simple alkenes, α,β-unsaturates ketones and aldehydes, electron-rich alkenes (enol ethers, enamines).
More electron-rich alkenes will react faster bcz the electrophilic nature of the reagent.
Highly substituted alkenes can react slowly bcz of steric hindrance.
The cyclopropanation is diastereoselective, and it occurs less hindered face of the double bond.
When alkene substrate has OH, OAc, OMe, OBn, and NHR functional groups, they act as directing groups for delivering stereochemical outcomes.
Related Reactions:
References:
My name is Pradip Sanjay W. I'm an organic chemist originally from Maharashtra, India. I have qualified UGC NET-JRF, GATE in chemical sciences and MH-SET exam for assistant professor. I'm currently pursuing my Ph.D. in organic chemistry at the Indian Institute of Technology Hyderabad, India.