The Michaelis-Arbuzov reaction is a chemical reaction that involves the conversion of an organohalide (alkyl or aryl halide) to an organophosphonate using a trialkyl phosphite and a metal catalyst, typically a metal iodide such as zinc iodide.
Arbuzov reaction also known as Michaelis–Arbuzov reaction and its important Name Reaction In Organic Chemistry. Here is the all about Arbuzov Reaction with Mechanism and Examples, Application.
Arbuzov Reaction Mechanism:
The Arbuzov reaction mechanism proceeds through the formation of an intermediate alkyl phosphonate ester, which is subsequently cleaved to produce an alkyl phosphonate and a new alkyl halide. The overall reaction can be represented as follows:
Arbuzov Reaction Examples:
here are the some examples of Arbuzov reaction.
Arbuzov Reaction Application:
The Michaelis-Arbuzov reaction is widely used in organic synthesis for the preparation of a variety of organophosphorus compounds, such as phosphonates, phosphates, and phosphine oxides. These compounds have a range of applications in pharmaceuticals, agrochemicals, and materials science.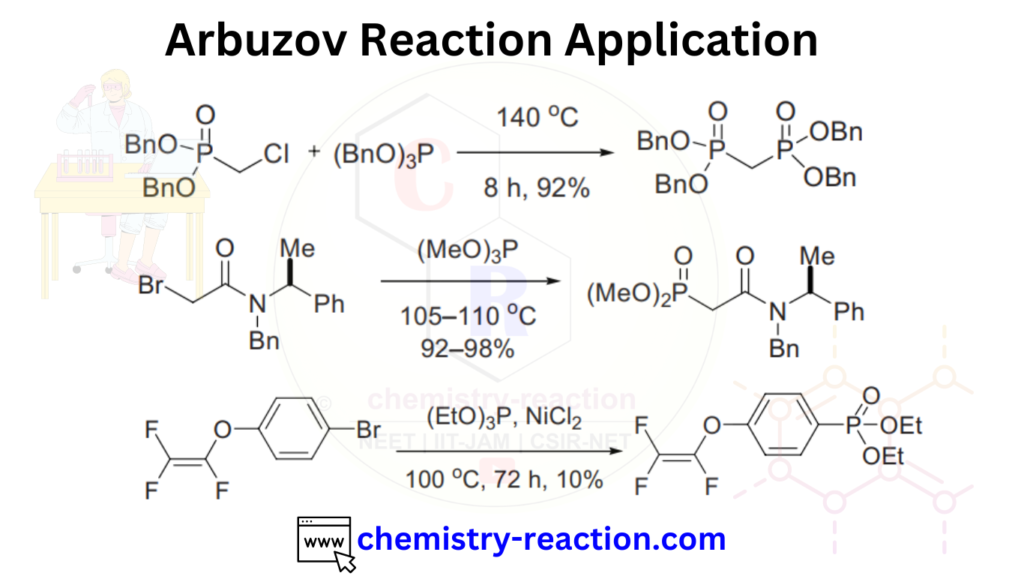 For any question related to Arbuzov Reaction with Mechanism and Examples contact us. thanks
Related Topics :
References :
Arbuzov Reaction- Sciencedirect "
Mechanism of the Michaelis-Arbuzov Reaction: Olefin Formation- pubs.acs.org "
My name is Pradip Sanjay W. I'm an organic chemist originally from Maharashtra, India. I have qualified UGC NET-JRF, GATE in chemical sciences and MH-SET exam for assistant professor. I'm currently pursuing my Ph.D. in organic chemistry at the Indian Institute of Technology Hyderabad, India.